A Curtis Pitts Game Butchery Masterclass is designed to give you a better understanding about the way we source our game meat and its provenance.
The sessions will cover both venison butchery and game birds in the feather when in season.
Guests attending the classes can expect a warm welcome from Curtis at his purpose-built larder on his family farm.
Curtis has a natural passion and enthusiasm for game management and the land, which has spanned his whole life.
Course delegates can look forward to:
Curtis will teach course participants about the whole journey of his game meat, from gate to plate and give them the opportunity to learn some valuable butchery skills.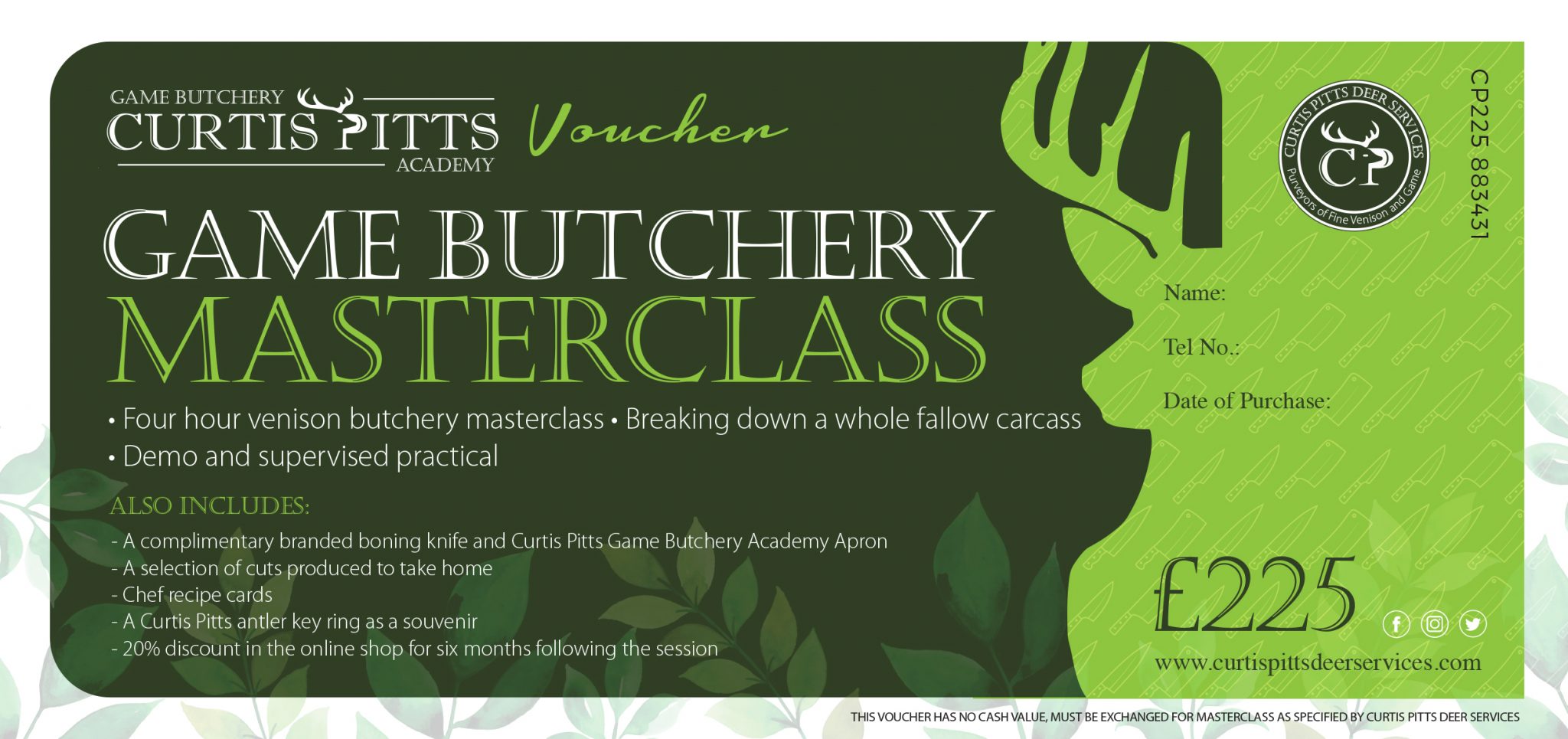 Whether you wish to hone existing knife skills or would simply like to be able to process venison and feathered birds that you have shot yourself, a masterclass from Curtis Pitts Butchery Academy is just what you need. 
 A Game Butchery Academy Voucher is also a great experiential present idea for the friend or loved one who just seems to have everything!
Each of our classes will last approximately five hours and will be run on a Saturday from 10am-4pm by Curtis Pitts.
Throughout the session guests will get a hands-on experience – under close supervision, with protective gloves, learning basic knife skills as they go. 
The Masterclass will also give an insight into how the animals are raised, as well as some of our preferred cooking methods, specific to each cut.
Curtis loves teaching butchery, as principally, he loves passing on his skills in the art of game butchery and secondly, watching students' faces as they overcome their apprehensions, such as working with knives to achieve a good standard of practical butchery knowledge that will lead to less wastage and enhance their culinary skillset.
At the end of the class, guests will not only take with them their own Curtis Pitts Butchery Academy apron, but also a game butcher's boning knife and some of the game meat butchered. 
On top of this, to encourage guests to practice their knife skills at home they will also get a 20% discount card to be used in our online shop for the six weeks following their class.