An antler hunt at Easter is not such a crazy idea and has a rich history, according to third generation deer manager and expert Curtis Pitts, who is championing a new kind of Easter hunt to raise awareness of deer and venison.
Antlers are used by bucks and stags to battle other male deer for the right to access females during the rut. Consequently, the deer with the most magnificent or prominent set of antlers is generally the dominant animal in the herd.
Curtis said
"Deer carrying antlers replace them every year.  Deer cast their antlers in the spring and  grow them back again in a furry skin called velvet over the summer. An increase in blood testosterone leads to a shedding of the velvet, revealing the antlers in time for their use during the breeding season. This annual cycle of growth, velvet shedding and casting happens naturally. Once the deer have no more use for the antler it falls off and can often be found in deer-populated areas."
"Antler size and weight is related to a combination of habitat, food availability and genetics. Furthermore, older males are likely to cast their antlers before younger stags."
"Antlers can serve many purposes and make great decorations.We have created a whole range of gift products using our antlers, including bottle openers, cork screws and key rings. They are also incredibly popular as dog chews and are available on our website here.
Our antler products are a super, sustainable gift idea and a fantastic alternative to easter eggs"
Antler hunting can make for a terrific day out. Venture into the woods, with the landowner's permission, and check out the wallows (deer mud baths), as this is where they love to play, have a good old roll and rub their antlers off!
Of course, as deer managers, we have the inside scoop on where best to hunt for antlers…but as we strive to protect our herds in their natural environment, I'm afraid that information is to remain top-secret.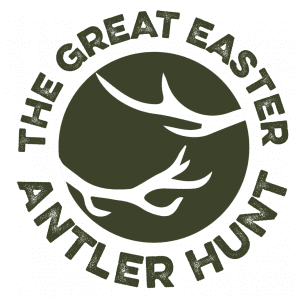 Alternatively, have a go at our very own Easter antler hunt on our website to try your luck at winning a 20% discount code*!
There are 4 species of antler hidden on our web pages – when you have found all 4 click on The Great Antler Hunt logo at the top of the homepage. Enter the pages you found the antlers and your 20% off discount code* will be generated.
*Valid until midnight on Sunday 17th April 2022 on game meat only.