Two of our much-valued customers were involved in a cook-off on Great British Menu last night. Three southwest chefs demonstrated in one heat how far female chefs have come and, at the same time, venison featured in some of the dishes dedicated to 100 years of Great British Broadcasting.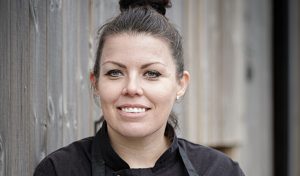 The talented Charlotte Vincent from The Five Bells at Clyst Hydon (just a stone's-throw from HQ) was up against fellow chefs Olivia Barry from Adelina Yard in Bristol and Elly Wentworth from The Angel in Dartmouth – Also one of our most long-standing customers. The prize is to represent the Southwest in the final banquet of series 17 of the hit TV show.
Charlotte Vincent cooked venison supplied by us said
"I'm so proud to be using Curtis Pitts. I like to know the meat's provenance  and that it's sustainable and ethical. His ethos is incredible and being just round the corner from the pub is less food miles from farm to fork."
Our Director, Curtis Pitts said
"It was a real honour to supply our wild fallow loin to the Great British Menu.  It makes me very proud to see not one, but two of our much-valued customers showcasing the wild produce we take great care in harvesting from across the Southwest."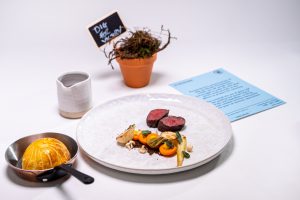 The dish, named "Dig for victory" was "a tip of the hat to the wartime speech on a declaration of war made by Neville Chamberlain. It was spine chilling and a poignant moment of British broadcasting on the radio," said Vincent.
The dish of venison with turnip & carrot with a beef fat pastry pie was awarded a 7 by judge Paul Ainsworth but was not enough to keep her in the heat.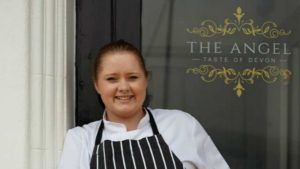 Elly Wentworth added
"It was great to see Charlotte showcasing Curtis' venison, I was one of Curtis' first customers and I think his produce is top-drawer.  He is so impressive for his age and handles every element of the business himself as a self-taught businessman.  It is great that his excellent produce is now getting the recognition from top chefs across the Southwest and beyond."
Elly Wentworth & Olivia Barry, who both scored double 8's, will go forward and we would like to take this opportunity to wish them both the very best of luck!
Buy our venison online now www.curtispittsdeerservices.com and a Chefs' Larder price list is available upon request.