Curtis Pitts joined forces with The Great Game Guide to demonstrate expert game butchery and showcase the quality of his produce at The Game Fair. The theatre offered by expert butchery and talks on the provenance of venison, partridge, grey squirrel, mallard, pheasant and pigeon were all very well-received by the information-hungry audience, all incredibly passionate about the sector; from the novice to experienced game shot.
Curtis also had his own stand at The Game Fair selling fresh cuts of venison, as well as beautiful deer skins, antler key rings, antlers and Butchery Academy Vouchers.
Curtis' interesting talks and expert knife skills proved a real attraction to Game Fair goers, with queues forming outside the already-full marquee to hear what he had to say, giving them valuable insight into land management and conservation.
Working in collaboration with The Chefs' Forum, Curtis added the all-important element of game butchery to the cookery demonstrations on the demo stage with leading chefs from across the UK.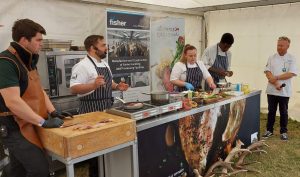 Curtis said:
"It was great to showcase game butchery on The Great Game Guide demo stage and work with a load of chefs together who are in The Great Game Guide, as well as invite some students from West London College to assist with creating the dishes. I had a pleasing number of audience members sign-up to my Game Butchery Academy masterclasses, which are available to buy on the website.
We have really enjoyed attending The Game Fair this year and the opportunity to catch-up with game sector friends old and new.
We have also had some very interesting conversations on future collaborations – Watch this space!"
The chefs created some fantastic dishes with Curtis' game meat, really showing off its versatility and quality.
All produce and merchandise offered at The Game Fair is available in our online shop.  Please click the link to browse the range: http://curtispittsdeerservices.co.uk/shop-page-new