Curtis Pitts' expertise was called upon by The Chefs' Forum to perform a venison butchery demonstration to fifty chef lecturers from all over the UK on a virtual conference.
The demonstration formed part of the Continuing Professional Development Conference arranged by the national chef organisation, delivered on Zoom.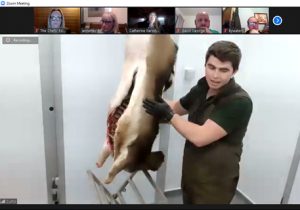 Cameras were rigged-up in the brand-new Fisher UK Game Larder and conference delegates were treated to a guided tour of the chillers and the processing room.
Catering college lecturers are obliged to actively seek opportunities to acquire new skills that they can pass on to the next generation of chefs.
Curtis' butchery session proved a real hit, so much so, that he's staging a further, more in-depth session of came butchery and cookery at the end of the month, to which many delegates are already signed-up!
Curtis said
"It was a fantastic event, providing four afternoons of superb content, spread over the last two weeks.  It served as a platform to explore and discuss a variety of highly topical issues, all with the common aim of facilitating college lecturers' participation in Continuing Professional Development or CPD.  I was delighted to show them my new larder and give them a tour of the chillers.  I then skinned and broke down a whole carcass of venison into primal cuts.
The level of interest was very pleasing, and I'm delighted to have been asked to take a further session later this month where we'll be doing rabbit and pigeon processing and cookery with Matt Gisby from BASC."
The fifty delegates from catering colleges all over the UK were also treated to sample some wild venison haunch steaks and other delicious produce samples whilst learning key information and provenance relating to the products, and enjoyed a range of outstanding demonstrations; all of this through a screen and keyboard!
To draw the curtain on the conference, alongside Curtis' demonstration was a discussion on responsible sourcing with Annette Woolcock, Head of Food at BASC.  Curtis amazed and inspired the lecturers with his passion, knowledge and skill. It was a brilliant end to the conference programme.
Neil Rippington, Educational Consultant at The Chefs' Forum said
"Huge thanks go out to Curtis and  all the guest speakers for their highly skilled and knowledgeable contributions. In challenging circumstances, they all did a magnificent job and the enthusiasm for the subjects discussed was as uplifting as it was reassuring.
Having received overwhelmingly positive feedback from the Conference Delegates, The Chefs' Forum is now staging a more in-depth CPD event in Game Butchery, which will see Curtis joined by his 'rabbiter', Chris Potter and his ferrets to show how they are harvested.
The delegates are sure to love this fantastic film as a teaser:
They will also get to prepare their own rabbit loin and pigeon breast for a fantastic cook-along with Neil Rippington and Matt Gisby.
Curtis Pitts Merchandise will also be available for the delegates to buy as a souvenir of the session and to hone their craft going forward.
Delegates will be able to choose from antler keyrings, Curtis Pitts Butchery Academy game boning knives or beautiful branded aprons – Shop the range here.